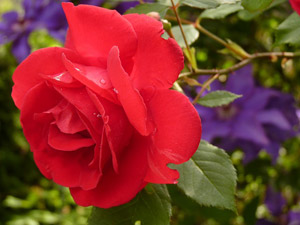 Red Rose the Master of Love
22 the Master Builder Creator set to Red
If you want to get things done, do it on a day ruled by the 22. This is the day to dare those mighty deeds you've never dared before, or at least do the things you have been putting off. There is a strong red vibration at work here which really helps you to get all fired up and moving.
This is a master vibration day and under the influence of the Master you are expected to do things like a master. No pressure!
Today get your red pants on, your red shirt and your red shoes on, the Universe wants you to do things BIG! This is the vibration of leadership, so you can pull out all your power and get others to help you get things done.
This is a very futuristic vibration and resonates strongly to Starseeds and Star People. Is this your day today?

Your Masterly Red Affirmation for today
I will dare to do today, I dare to be and I dare the creations that lay deep within me to surface and I dare to show them to the world. I Am the Creator and I build all my desires into Creation!
ChristinA